Chop vegetables and food faster, easier and safer!
Speed up your food prep easily! Hate messy cleanups after cooking? Do you cut your food the traditional way with knife and cutting boards? We have something amazing for you! Introducing the new 2-in-1 Knife and Cutting Board Food Cutter. Take your meal prep to whole new level. It's a magic tool for every cook.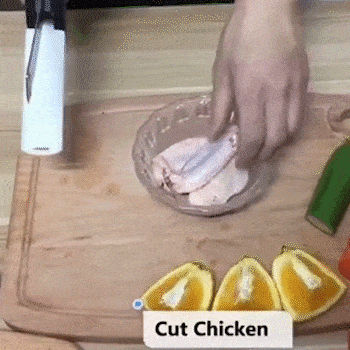 Quickly chop your veggies, fruits, meat and cheese in seconds. Food Chopper let you prepare your food up to 10x faster and make it look 10x better by making nicely chopped slices. Cut onions so fast you won't shed a tear. It's works wonders for cutting those hard-to-cut carrots, celeries and almost anything that you cut up for tasty salads or soups.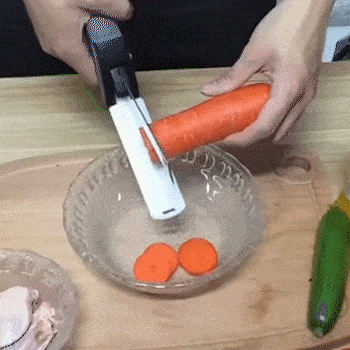 Cut, chop and slice and add directly into the pot. It replaces all your kitchen knives and cutting boards with one easy to use tool. No more messy kitchen counter and cutting board cleanups. 
How to clean it? Easily! Just throw it in the dishwasher or quickly hand wash it with soap and water and you're done! Plus, it's doesn't take up much space and can be easily stored in your kitchen drawer
A must-have for any chef at any skill level. Order yours today and experience the new better and faster way of cooking.
Why You'll Love It?
Great Invention 

- So much easier than a knife and cutting board. It will replace all your kitchen knives and cutlery with one easy to use device

10x Faster Than Ordinary Cutters

 - It chops your favourite food in seconds. Quickly chops and entire salad, slices pepperoni and cheese with ease
Easy To Use Handle: 

The ergonomic power pressure handle automatically opens for quicker easier slicing

Safer than Kitchen Knives -

 No more accidentally cutting your finger while chopping food. It's spring is just right that it doesn't cut your finger but cuts the veggies very well
Cut Food Right Into The Bowl

 - Make your favourite soups and salads by cutting veggies and meat directly into the bowl

Slice Fruits Without The Mess

 - No more messy cleanups and smushed fruit slices. it creates nice clean fruit slices and will make your fruit salad look 10x better
Your Food Will Look Better

 - It create nicely cut slices and will make your food look 10x better

Durable and Long-lasting

 - Built to last. It features super sharp food-grade stainless steel blade which makes it fully rust, stain and corrosion resistant
Great for People with Reduced Mobility and Disabilities

 - It's a very useful kitchen helper for people with poor grip, reduced mobility or disabilities. Can be even used at the table for eating. it's perfect helper for those with disabilities to cut meat and so many things without asking for help

Easy To Clean

 - It's dishwasher safe or can easily hand wash it with soap and water
Specifications
Material: Stainless steel+PP
Product size: 24.5*6.5*2.8cm
Product weight: Ordinary type: 178g / Upgraded: 187g
Package includes: 1 x  2-in-1 Knife and Cutting Board Food Chopper